---
To celebrate the release of The Hybrid Chronicles book three, The Assassin's Crown, by Shana Vernon, we're giving away a signed paperback of book one, The Assassin's Daughter, a $10 Amazon gift card, a bad ass bitch coffee mug, and some bookish socks!
(Scroll down for the giveaway!)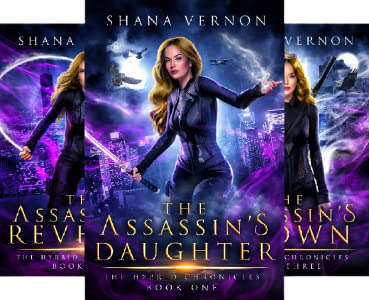 An assassin with a deadly secret. Keeping it hidden could lead to everything she's been searching for. Discovery will lead to certain death.
I've been hiding from the Guild since I was born.
If they knew about my magic, they would kill me in a heartbeat.
I should be avoiding them, but instead, I enter the Guild as a regular human recruit.
Why?
Papa went missing after a mission, and I need answers.
I realize I might have bitten off more than I can chew when my new instructor is the guy I kissed a few months before.
It doesn't seem like Cade recognizes me without my disguise, but if he does and blows the whistle, I'm as good as dead and so is Papa.
---
Enter to win!
Remember, there are several daily tasks, so don't forget to come back for extra entry points!
On a phone and having trouble entering? Make sure you open this page outside of the Facebook web browser by clicking the three dots and selecting 'Open in Chrome' or whatever web browser you normally use.