---
To celebrate the release of The Rose, we're giving away a hardback of The Rose, One Night Ultimate Vampire board game, a Xenomorph Aliens Funko Pop, and an "I'm not saying it was aliens, but" coffee mug!
(Scroll down for the giveaway!)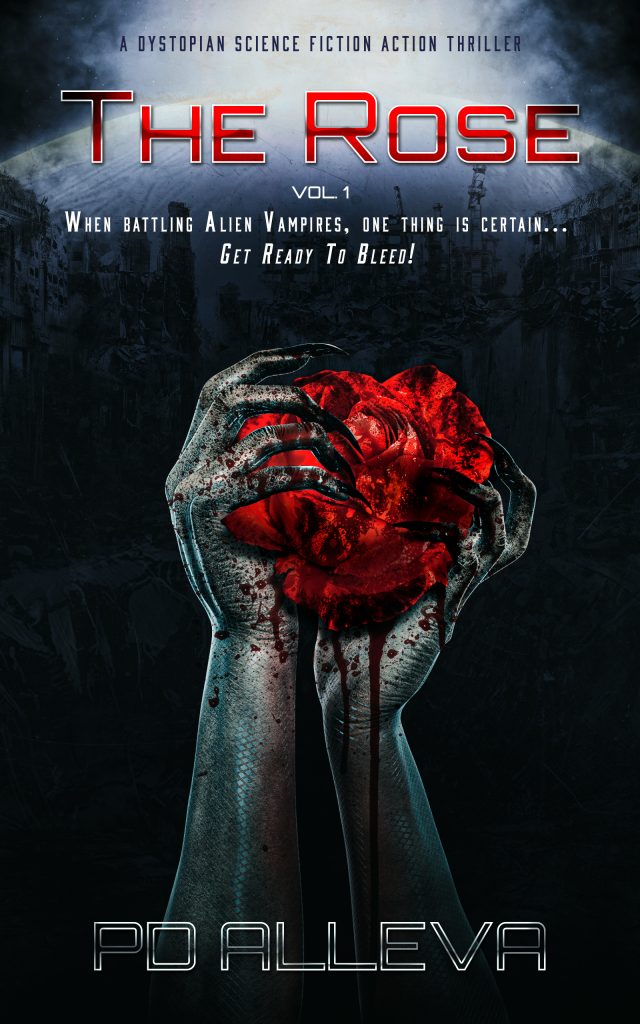 A masterful, dystopian science fiction thriller of telepathic evil greys,
mysterious rebellion, martial arts, and Alien Vampires.
Sandy Cox believed WW3 was over. But for those Alien Vampires, war has just begun.
Forty-eight hours after a World War 3 treaty is signed Sandy Cox awakens in an underground compound unable to move.
Tied to machines, she screams for help but no one answers. At least no one human. And they've taken her unborn child.
Phil is a rebel freedom fighter who has had more than his share of Alien Vampires. Armed with The Blades,
a sacred alien martial arts weapon, he enters the compound on a mission to find Sandy. But as he battles
through the compound, Phil discovers Sandy has her own agenda. Finding her stolen child is all that matters.
But the Vampires have their own plan and Sandy's baby is at the heart of their diabolical plot.
Joined by a crew of rogue soldiers, they must navigate the underground compound,
combating genetically mutated humans, aliens, and monsters.
When battling Alien Vampires, one thing is certain…Get Ready To Bleed!
Fans of Jeff VanderMeer's Annihilation, L. Ron Hubbard's Battlefield Earth, Star Wars, The Matrix,
and Ancient Aliens will be fascinated by this high-powered, edge-of-your-seat action-adventure.
---
Enter to win!
Remember, there are several daily tasks, so don't forget to come back for extra entry points!
On a phone and having trouble entering? Make sure you open this page outside of the Facebook web browser by clicking the three dots and selecting 'Open in Chrome' or whatever web browser you normally use.