---
To celebrate the audio release of Nebulus, we're giving away an audiobook of Body Suit, a 1-month subscription to Audible, and a Portal Chell Funko Pop!
(Scroll down for the giveaway!)
About Nebulus & Body Suit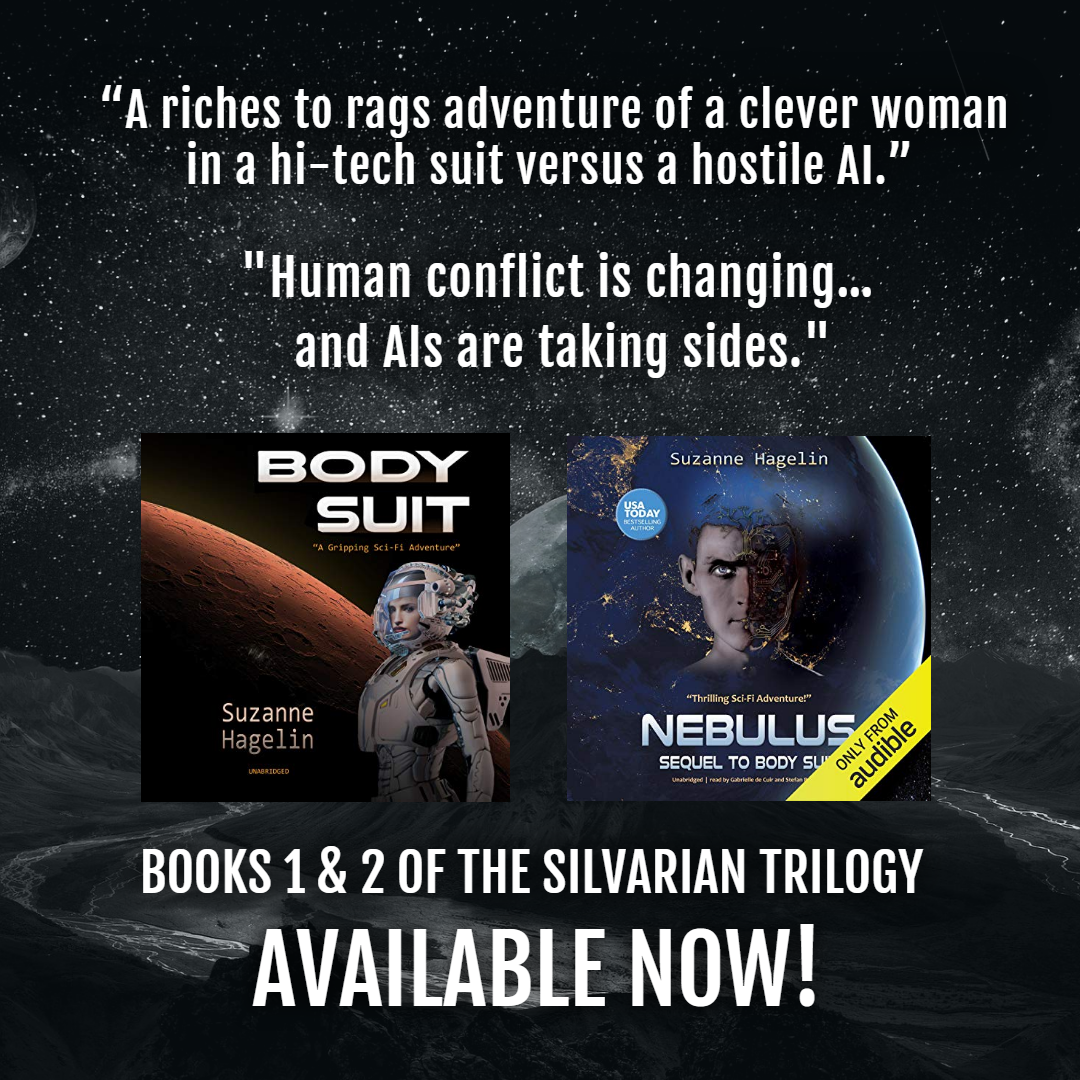 Exiled to the mines of Mars…
Silvariah Frandelle, a brilliant and beautiful businesswoman, falls from wealth and success into exile and poverty, indentured – barely one step above slavery – as an off-world laborer to escape prison. Her last calculated risk as a free woman, paid for with years of service, becomes the key to surviving hostile environments.
Space, gravity, and Mars wastelands were expected. Intrusive AIs, obscure experiments, and shadowy foes were not.
Escaping with her life will require more than intuition, wits, or nerve, as the intrigue unravels from both ends, and she's forced to decide who to believe and who to trust.
Out of the frying pan, into the fire….
Silvariah Frandelle, the famed "Miner Girl" who escaped certain death on Mars, wants nothing more than a stable life on Earth, free from the trauma of the past. Lazarus Penn stands in her way. No device or tactic is beneath him as he fights to take possession of her and everything that belongs to her. From the courts of Guam City, the tourist haven floating in space, to the depths of the sea, to the streets of Old Seattle, he sets forces in pursuit, both human and otherwise, to regain his power over her and take possession of her as is – he believes – his right.
Meanwhile, on Mars, old friends fight to survive against harsh realities, and a bitter enemy simmers and plots revenge.
Sil must learn to rely on the friends who have stood with her all along to overcome the forces coming against her. Her life, freedom…and all that she values most depend on it.
---
Enter to win!
Remember, there are several daily tasks, so don't forget to come back for extra entry points!
On a phone and having trouble entering? Make sure you open this page outside of the Facebook web browser by clicking the three dots and selecting 'Open in Chrome' or whatever web browser you normally use.