---
To celebrate the release of Witch of the Wild Beasts by Catherine Stine, we're giving away a sweet prize pack that includes a Witch of the Wild Beasts coffee mug, a Witchy Goodie Book: a book container filled with baubles, stickers, greeting cards and more, a $40 Amazon gift card, and an ebook of the first witch book, Witch of the Cards!
(Scroll down for the giveaway!)
About Witch of the Wild Beasts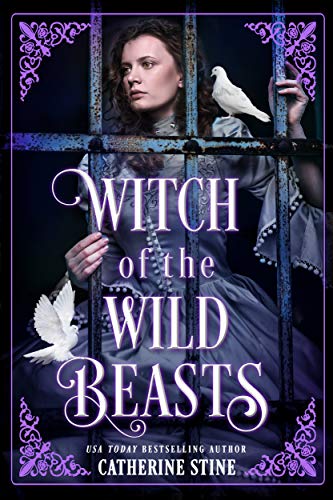 When Evalina is imprisoned for witchcraft, will her supernatural bond with animals be her curse or salvation?
In 1854, Evalina Stowe witnesses the murder of her brother by Dr. Dowdrick, an enraged client at the tailor's where they work. Desperate to stop him, she rouses a swarm of wasps that sting the doctor while she stabs him with scissors and then flees. At a subsequent job when birds race to her defense, Evalina is declared a witch and sent to Philadelphia's Eastern State Penitentiary.
While imprisoned, Evalina is horrified not only to learn that Dr. Dowdrick is still alive, but he's experimenting on inmates. Determined to get inside his Eclectic Medical School, to expose his nefarious activities, she's passionate about protecting fellow prisoners, especially Lewin, a child thief who knew her brother, and Birdy, a kind, resilient Welsh man serving time for a worker's death while blasting granite for the railroad.
Evalina, her friends, and her "wild beasts" work against time to unmask Dowdrick's crimes when she participates with him in a symposium, showcasing Philadelphia's premium doctors. If they fail, not only will the doctor's evil deeds continue unchecked but Evalina and her crew will surely be hung.
Actual historical figures such as Dr. Thomas Mutter and Charles Dickens spice up this fantastical thriller brimming with historical gems set in Philadelphia's renowned penitentiary. Won second-place in The 2019 Valley Forge RWA Sheila contest.
---
Enter to win!
Remember, there are several daily tasks, so don't forget to come back for extra entry points!
On a phone and having trouble entering? Make sure you open this page outside of the Facebook web browser by clicking the three dots and selecting 'Open in Chrome' or whatever web browser you normally use.