---
To celebrate the release of Scorpion Blood by Stephany Wallace and J.L. Weil,
we're giving away 8 signed Academy paperbacks to one lucky US winner!
One international winner will receive 8 ebooks!
(Scroll down for the giveaway!)
About Scorpion Blood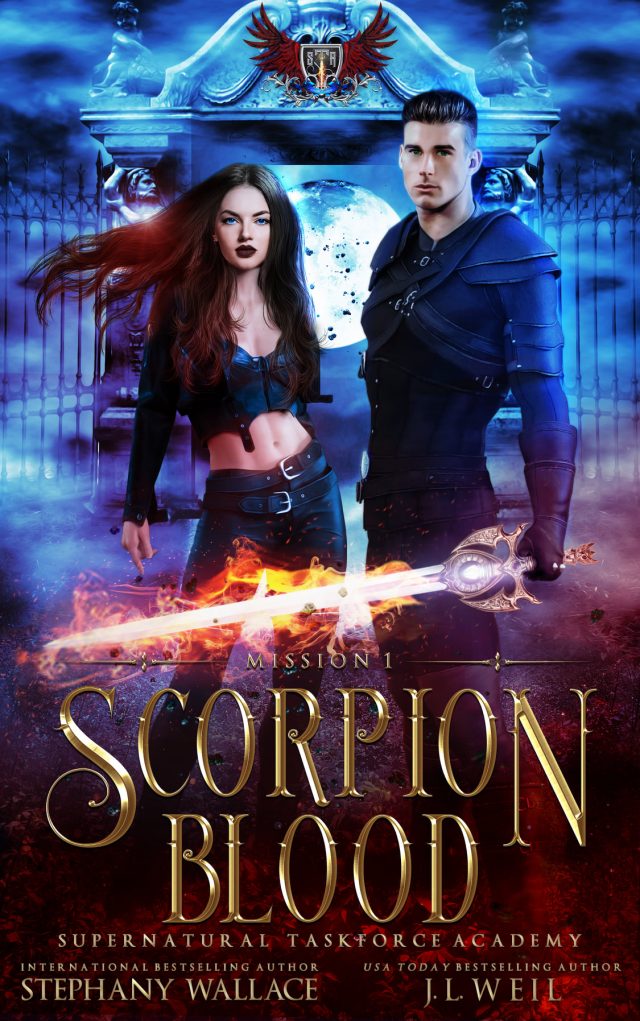 What does an ex-military, a vampire, a phoenix, a wolf shifter, a fae, and a witch all have in common? Nothing… other than being handpicked to save the world. May the Gods save us all.
If someone had told young, ex-Delta Force Ethan James, that supernatural creatures were real, he would have laughed. See to believe was his motto, until one day he was kidnapped by a being that could only exist in dreams… or nightmares. Taken to a place where having extraordinary abilities is the norm, he'll be offered the opportunity of a lifetime.
The Supernatural Taskforce Academy—or STA as it's known—is an elite academy for witches, fae, shifters, vampires, and every other class of supernaturals with exceptional skills. But what the heck does STA want with a human? An ex-soldier at that?
Renna Blackwood doesn't play nice with others. She might have a mean girl reputation, who snubs her nose at the rules, but with skills like hers, she has rightfully earned every ounce of that reputation. She is a bleeding vampire for God's sake. So, when the council assigns her the task of awakening new members for the academy, Renna isn't the least bit surprised.
Until she sees who her partner is… A mortal. With a heartbeat. Swell. This should be fun.
---
Enter to win!
Remember, there are several daily tasks, so don't forget to come back for extra entry points!
Prize List:
Stephany Wallace & Jennifer Weil~ Scorpion Blood
Sophie Davis ~ Throne of Winter, The Dark Court Series
G.K. DeRosa ~ Darkblood Academy: Book One: Half-Blood
Rachel Jonas ~ Dragon Fire Academy 1: First Term
Heather Renee ~ Delayed Admission. Shadow Veil Academy
Lindsey R. Loucks ~ Necromancer Academy: Book 1
Wendi Wilson ~ Oberon Academy Book One: The Orphan
Holly Hook  ~ Cursed Academy, year one.