Mirren Hogan is pleased to announce the release of her book,
Daughter of Shadows!
Daughter of Shadows is the first of three books in The Chadanar Cycle series.
You can also buy from these retailers:
Kobo: https://www.kobo.com/au/en/ebook/daughter-of-shadows
Draft2Digital: https://www.books2read.com/u/49DoY0
iBooks: https://itunes.apple.com/us/book/id1394014106
Barnes & Noble: http://www.barnesandnoble.com/s/2940155651802
BLURB:
Ataryn's secret could shatter the world…
Determined from a young age to serve the Goddess as a priestess in her temple, Ataryn accepts she'll have to be careful. Her discovery could destroy centuries of peace and throw Chadanar into civil war.
When the truth is revealed, can she survive, or will the ambition of elite soldier Kael get them both killed?
Start the journey to Chadanar today!
Get the entire 3-book Chadanar Cycle Series by Mirren Hogan!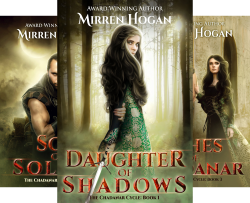 There's still a chance to win this awesome swag pack and paperback! The contest ends 11:59 EST 07/24/2018!

Enter to win a paperback copy of Daughter of Shadows, a golden feather bookmark, a sword necklace, and a dark fantasy adult coloring book!
Plus, there are several other ways you can enter, including some daily tasks!
Daughter of Shadows Pre-order Giveaway