Greg Alldredge is pleased to announce the release of his new book,
Pretty Waiter Girls!
You can buy your copy at
Amazon: https://amzn.to/2LX21Kp
BLURB:
Some monsters are still human…
In a magical 1899 San Francisco, the new millennium is quickly approaching. Of course, new inventions happen every day, some wondrous, some mundane while the streets produce a new murder every night.
Set against this backdrop a debutante goes missing, and socialite Helena Brandywine takes it upon herself, along with her trusted manservant, to discover what happened.
Did the woman run afoul of the Tongs in Chinatown? What horrors might she have exposed? Discover this Gilded Age while Helena uncovers her family's secrets. The good and evil, where danger lurks around every corner. Can Helena Brandywine be prepared for the monsters she will uncover? Come search for the Pretty Waiter Girls.
Watch the trailer!
Don't forget, you can preorder the next two books in the series!
There's still a chance to win this awesome swag pack and paperback!
The contest ends 11:59 EST 06/09/2018!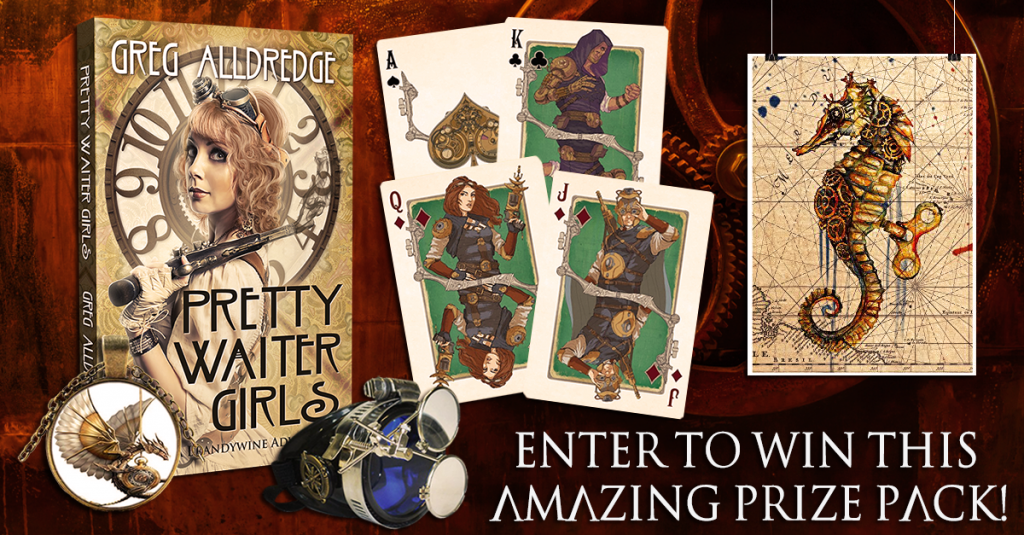 Pre-order Pretty Waiter Girls for your chance to win!
Enter to win a paperback copy of Pretty Waiter Girls, a deck of steampunk playing cards, a steampunk monocle goggle, a steampunk dragon necklace, and a steampunk seahorse wall print.
Plus, there are several other ways you can enter, including some daily tasks!
Pretty Waiter Girls Pre-order Giveaway!