Kathrin Hutson is pleased to announce
the release of her new book,
Sanctuary of Dehlyn!
You can buy your copy at
Amazon: https://amzn.to/2rHh9mN
BLURB:
One woman with the mind of a child, and the world's ancient secrets are trapped within her.
When Kherron meets her, he wishes he hadn't. Beholden to the man who purchased his freedom from the Iron Pit, he cannot deny Torrahs this one request—get to know the woman-child named Dehlyn. He also cannot reconcile the gorgeous woman with the stunted, naïve, unnatural workings of her innocent mind. And yet, she's been placed under his care.
On the night he saves her life, Dehlyn transforms, revealing the otherworldly power of the creature she has always been—the creature who, for centuries, no one but Kherron has seen. She asks him to make a vow, to protect her at all costs, and when he can do nothing but submit to such a promise, the world he knows unravels.
The immortals are at war. Beings wielding forbidden magic run rampant across Eldynia. Powerful men will stop at nothing to pry the world's mysteries from Dehlyn's mind, and all the rules are changing. Kherron's path lies at the center, but if he's to protect Dehlyn at all costs, first he must find her.
There's still a chance to win this awesome swag pack and signed paperback!
The contest ends 11:59 EST 05/19/2018!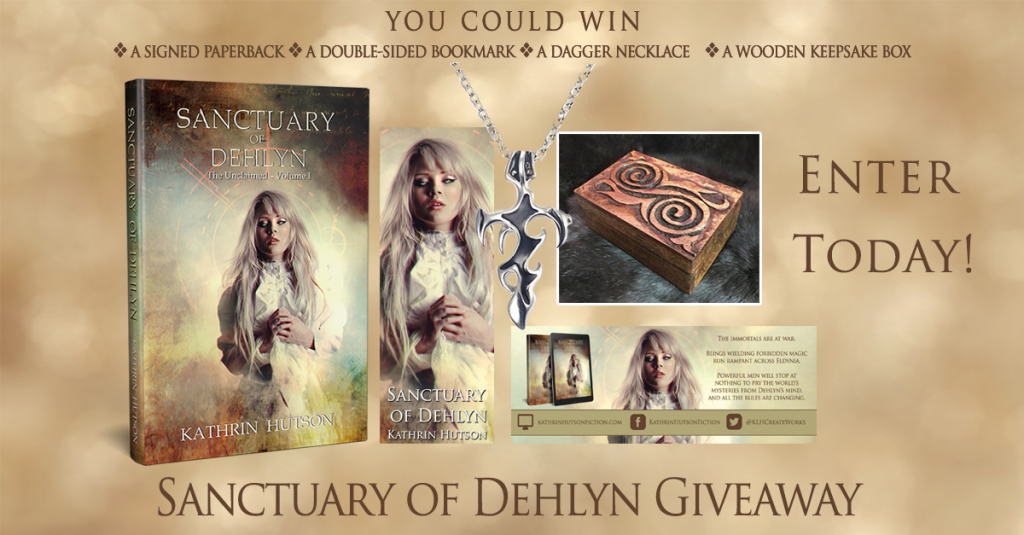 Pre-order Sanctuary of Dehlyn for your chance to win!
Enter to win a signed paperback of Sanctuary of Dehlyn, a double-sided bookmark, a dagger necklace, and a wooden keepsake box!
Plus, there are several other ways you can enter, including some daily tasks!
Sanctuary of Dehlyn Preorder Giveaway!