Tiki Kos is pleased to announce that her Book, Mercy Brown, is now available for purchase!
The book will be on sale for .99 for a limited time, so hurry and snag a copy from Amazon!
Mercy Brown is available to Kindle Unlimited Subscribers for FREE!
You can buy your copy at http://getbook.at/mercybrown
I've always been the prey.
All seventeen-year-old Mercy Brown wanted to do was finish her last year of high school without any glitches. Now, vampires are tearing apart the small town of Goodsprings. While teaming up with her friends, Sebastien, the mysterious new boy, and Amanda, the book-crazed bestie, Mercy will learn a secret about herself and that blood really is thicker than water.
To catch a predator, I will become the hunter.

Tiki Kos's dark and monstrous story tells a tale of a girl who loses everything but finds her true calling in a town where she was the outcast but now is the savior. This series will appeal to lovers of Buffy the Vampire Slayer and The Walking Dead.
There's still a chance to win this awesome swag pack and signed paperback! The contest ends MIDNIGHT 03/07/2018!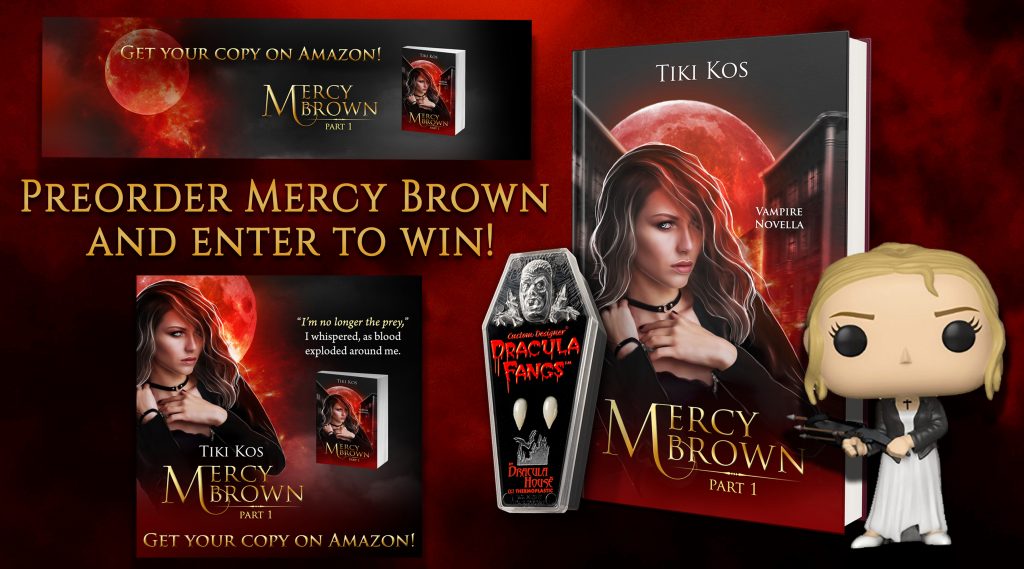 Pre-order Mercy Brown for your chance to win
Enter to win a signed paperback copy of Mercy Brown, plus a Buffy Funko Pop figure, real prosthetic vampire fangs, one bookmark, and one postcard.
Plus, there are SEVERAL other ways you can enter, including some daily tasks!
Mercy Brown Preorder Giveaway