Trish Beninato is pleased to announce that her novel, Awoken, is now available for purchase!
The book will be on sale for .99 for a limited time, so hurry and snag a copy from Amazon!
Awoken is available to Kindle Unlimited Subscribers for FREE!
You can buy your copy at http://mybook.to/awoken
Prophecy, destiny and a war that entangles two ancient gods…
Eighteen-year-old Jewel, reliving her memories finds herself suddenly thrust into the past living in the world of mortals. Only this life and this version of herself is different. Yet, one thing stays the same, she finds herself in the path of Anubis an Egyptian god. She needs him even though it could cost her everything. But Anubis just sees her as an annoying complication to his quiet life he just can't have- at least that's what he tells himself. Even as he is drawn to the beautiful, dangerous goddess.
With Jewel's impending activation and Zeus trying to find them, Jewel and Anubis find themselves needing each other more than they care to admit. Only someone is about to betray the other.
Can Jewel save all of humanity from her own family in time?
There's still a chance to win this awesome swag pack and signed paperback! The contest ends 01/20/2018!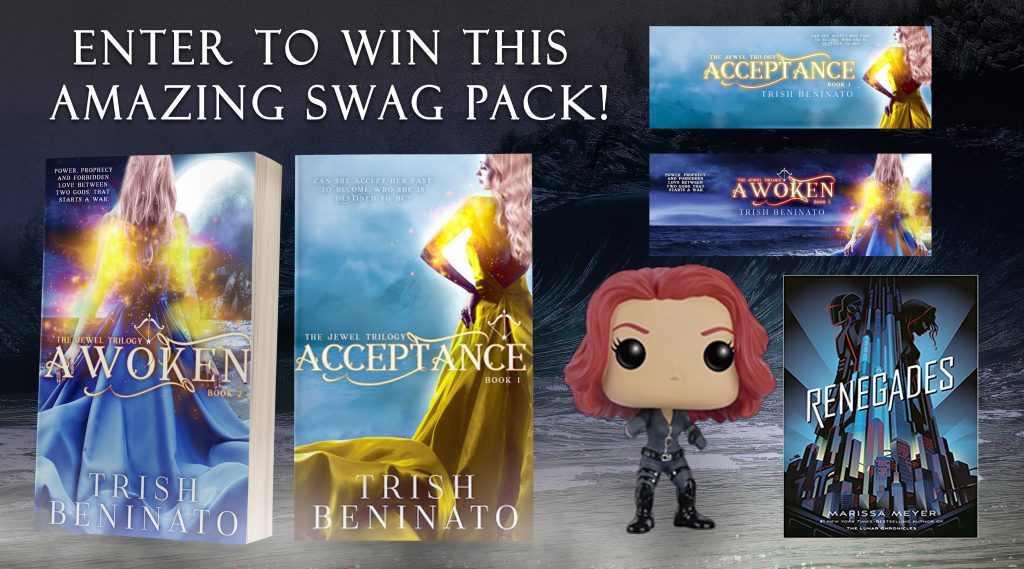 Pre-order AWOKEN for your chance to win
Signed paperbacks of Acceptance and Awoken, a Black Widow Funko Pop figure, two Jewel Trilogy bookmarks, and a hardback edition of Renegades by bestselling author Marissa Meyer!
Plus, there are SEVERAL other ways you can enter, including some daily tasks!
Awoken: The Jewel Trilogy Pre-order Giveaway!