Michael W. Huard is pleased to announce that his novel, Land of the Free, is now available for purchase!
The book will be on sale for .99 until the 16th of January, so hurry and snag a copy from Amazon!
Land of the Free is available to Kindle Unlimited Subscribers for FREE!
You can buy your copy at http://getbook.at/landofthefree
LIVE FREE OR DIE in this Sci-Fi & Fantasy Adventure of a Lifetime! All hope lies in a SISTERHOOD of amazing Martial Arts Masters. It's a 31st Century battle of ROBOTS VS GIRLS. One thing is for sure; the women have learned that LIBERTY is not given; it is TAKEN! 
In the year 3016, the United States of America has fallen into great despair. The advent of advanced technology, AI, robotics, and a power-hungry corporation rule the nation. However, there is hope. A WONDER WOMAN like sisterhood of enhanced, highly intelligent, patriotic ladies is out to make the country free again.
THE HORROR STORY SO FAR
Your friendly leaders of the 31st century are now a boys club of rich aging men. This greedy Corporation now controls all gas, oil, healthcare and everyone's standard of living. They govern with ruthless robots, droids, clones, and cyborgs; all with top-notch artificial intelligence; many with terminator programming.
NO ONE CAN STOP THEM
The USA needs a real-life super-hero, but in reality, there is no Captain America. The country will have to settle for one amazing group of beautiful, God loving, spiritual, freedom fighting women; heroines who have learned that JUSTICE is not FOR THE FAINT OF HEART!
Raise your sword and laser guns up high. The Mystical Slayers have arrived!
There's still a chance to win this awesome swag pack and signed paperback! The contest ends 01/10/2018!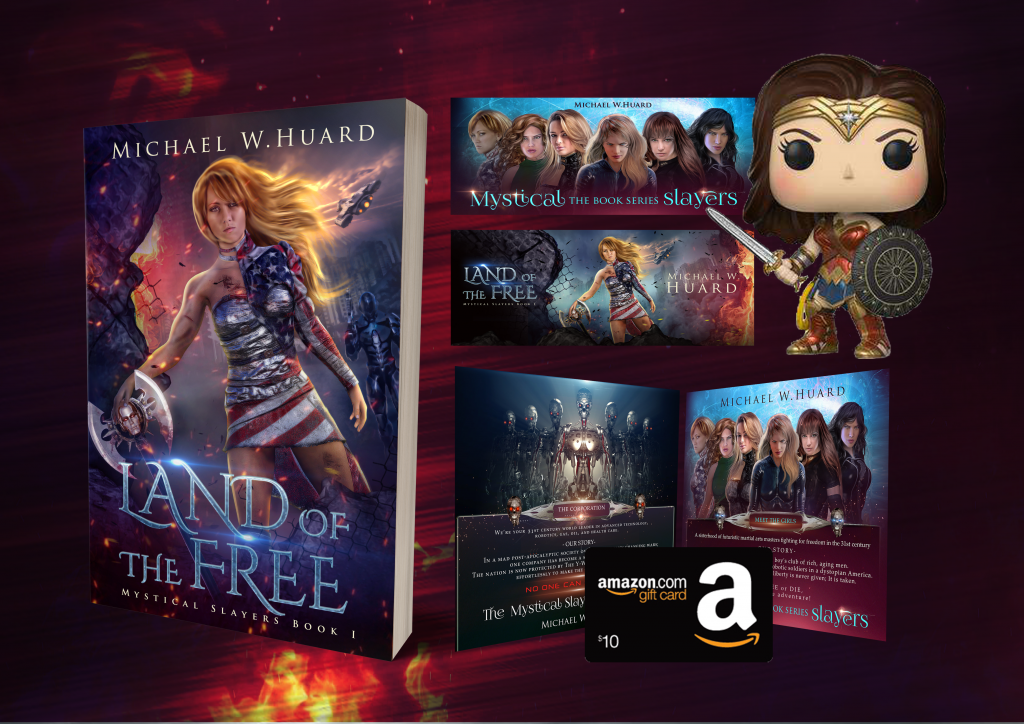 Pre-order Land of the Free for your chance to win
A SIGNED PAPERBACK COPY OF LAND OF THE FREE
A WONDER WOMAN POP
ONE DOUBLE-SIDED BOOKMARK
ONE DOUBLE-SIDED POSTCARD
A $10 AMAZON GIFT CARD
Plus, there are 11 other ways you can enter, including some daily tasks!