Donald D. Allan is pleased to announce the release of his latest book, Stoc (A New Druids Novel Vol. 3).
We hope you'll join us for this epic release event August 31st at 5 p.m. EST until 12 a.m. EST. We'll start off with Donald D. Allan himself, then we'll hear from some guest authors in the fantasy genre. This is a great opportunity to discover new authors, play games, and win prizes! Speaking of prizes, don't forget to enter the STOC Rafflecopter!

Stoc (A New Druids Novel Vol. 3)
The Draoi school has formed and Will and Nadine Arbor have begun to expose their powers to the realm of Belkin.
Lord Protector John Healy has made a deal with a foreign force to secure his base of power. Turgany will initiate a civil war that will drive Will to have to decide how his draoi can protect the harmony in the Realm.
Gaea, Erebus and the Church will come together in direct conflict, the result of which will determine the future for all. All life in Belkin teeters in the balance. Only Will and the draoi can hope to save the world.
Return to Turgany County and the realm of Belkin. A quiet land now in open rebellion against a tyrant and powers beyond understanding.
This is a story of how one young man and his students will change the world.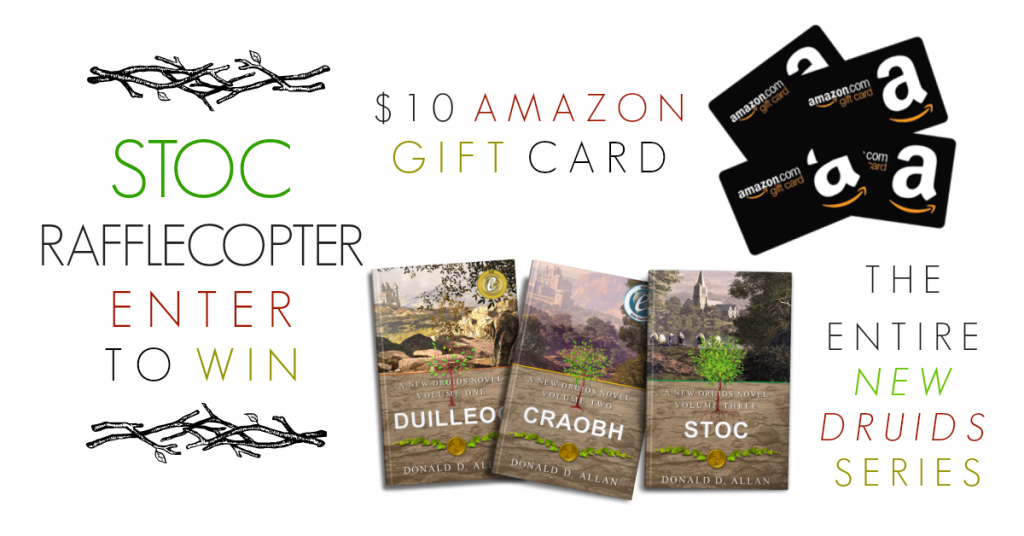 Enter the STOC Rafflecopter for your chance to win!
A $10 Amazon gift card
Or
The entire New Druids series ebook collection.
Don't forget to share! There are several entries that can be performed every day!